A closer look at Laird Superfood (LSF)
Laird Superfood (LSF) makes plant-based products ranging from your morning coffee creamer to your sports hydration to your evening hot chocolate. These alternative food brands are growing as consumers look for healthier options that are still great tasting and satisfying.
This deal will come next week and be small at only 2.2-2.5M shares with a range of $18-20. The market cap will only be $160M or about 4.5x sales. But the products are good and the company appears earnest so it's worth a look.
The company is a smaller but well-managed player in this space with a strong board. It's also worth noting that Danone Manifesto Ventures is an investor. They are rather selective and invest in companies that create healthy and sustainable food. As one of the leading global food companies this is a good partner to have. They have an option to purchase another ~500K shares as part of the IPO.
They started with non-dairy creamer and have expanded their product line into hydration products like powdered coconut waters and then coffee and cocoa-based drinks. All their products tend to have an ingredient twist to them that appeals to consumers who like a little "performance" feature in their food. Examples of their "real-food ingredients" are things like turmeric, mushrooms, beetroot and algae.
Distribution is a combination of direct to consumer, online channels and traditional wholesale. They are in about 5,500 grocery stores and have the potential to increase that to at least 20,000.
The direct to consumer (D2C) portion of the business is significant and provides recurring revenue from subscriptions and regular repeat customers. Although these orders would be easy to cancel they show a high level of customer affinity for the brand and give management more than average visibility for a food company. About 31% of their D2C business is from subscriptions and another 30% is from repeat purchases.
This year they will also be moving into the healthy snack segment with their own version of pili nuts which are claimed to fight inflammation, lower cholesterol, increase your lifespan, strengthen your bones, make you smarter and probably even more handsome. Okay maybe these won't be my cup of tea but the hydration products are very good. I am drinking one as I write this.
The company should have 2020 revenues in the $30-35M range. Underlying gross margins are about 40% and longer-term the company believes they can get them into the mid-40's.
The P&L so far has not been pretty. Losses continue to be high. A little more disturbing is the fact that if you add the cost of goods sold and sales and marketing costs together they exceed total revenue by over $1M! To be fair the underlying gross margin would get the number closer to a wash. However, investors will have to give management the benefit of the doubt for now on getting to "mid teens" EBITDA.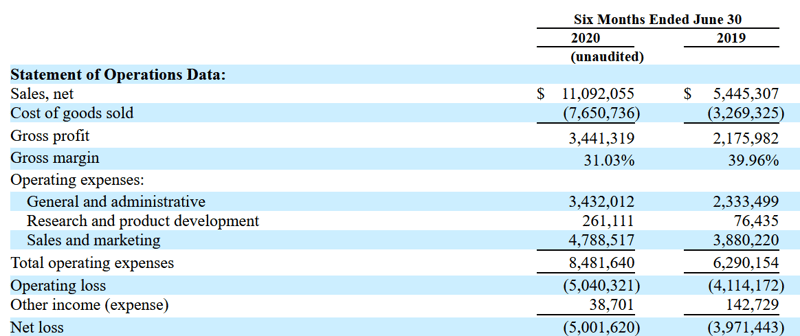 Total shares outstanding will be ~8.3M unless DMV elects to buy some of the IPO in which case it might end up being 8.8M or so. Using the lower number and the $19 mid-point we get a market value of $158M making this a pretty small public company. A 2.5M share offering means the float will only be $47.5M.
That puts the valuation at about 4.5x current year sales. In this market that feels reasonable or even cheap. Because it's also "ESG friendly" there will be extra demand from funds looking for these types of stocks.
Sign Up!
Get pure IPO Goodness - no ads, no fluff, no SPAM.